It's the end of a year, which is a good time to share a list. If I were beholden to sense, I'd have whittled this down to a neat 21 titles to match the year, but honestly, why cut a few just for that? Here are the books that, for whatever reason – their humor, their swooniness, their language, their bold characters, their heart – stood out as I flipped back through my book log. They are here because I tucked them into my back pocket and carried them with me through all the mundane, terrible, and joyful moments of this year, and they survived the wash.
I set some vague goals at the beginning of 2021 – I wanted to read 100 books, and I wanted to share reviews of them. I also wanted to make book-inspired art. The art didn't last, sadly, and the monthly roundups fell by the wayside halfway through the year, partly because I tend to write loooooongform (see: well, this exact document) and couldn't always find the time to do it justice and partly because I hit a reading slump and quit writing reviews because I don't do this as a job, and I don't write about books I didn't like as a rule. This is a space of celebration and joy. I'm not sure that I'll set any particular goals for 2022.
Some stats: I read 110 books this year, not including the dozens of chapter books, picture books, and nonfiction books I read to my kids. (We homeschool, so it's honestly too many to count.) Eight of my reads were nonfiction, mainly parenting-/homeschooling-related, craft books on writing, and essay/memoir. 102 were fiction. 91 were romance or romantic women's fiction. (My six-year-old asks often, "Why do you read so many books about people falling in love?" Because, my dear, it feels good.) The rest of the fiction was mainly apocalyptic/climate-related, haha. (I took Emily Henry's advice from Beach Read and kept my ratio "More swoon, less doom.") I counted books I reread in their entirety as another book in my count but none that I reread only pieces of. There were only a few. My list includes books by 74 different authors.
I haven't analyzed all the tropes and themes in the books I loved, but I know my favorite combination is romance and grief. Some standouts are Emily Henry's books, Trish Doller's Float Plan, Abby Jimenez's Life's Too Short, Sierra Simone's Sinner, N.K. Jemisin's The Broken Earth trilogy (which begins with The Fifth Season), Alison Stine's Road Out of Winter and Trashlands, and Miriam Toews' Women Talking, all of which made my heart ache and, in some cases, made me cry.
My most compulsive, couldn't-put-it-down, stayed-up-all-night-to-finish book was Alison Stine's Road Out of Winter. My ugliest cry (and a big surprise on this front) was Sierra Simone's Sinner. My favorite nonfiction book was Phillip Hurst's essay collection, Whiskey Boys. My comfort book was Emily Henry's Beach Read. My biggest laugh was Alexis Hall's Boyfriend Material. My swooniest, gentlest read was Kate Clayborn's Love at First.
Audiobooks continue to be the real star of my reading life. (Audiobooks are real books! Listening counts! #AudiobookDefenseSquad) All but seven titles I read this year were audiobooks, though I bought a handful in print after listening to them. My favorite audiobook narrators in no particular order were Julia Whelan, Rebecca Lowman, Zachary Webber, Jacob Morgan, Maxine Mitchell, Joe Jameson, and Robin Miles. Some standout audiobooks for me, also in no particular order, were N.K. Jemisin's The Broken Earth trilogy, read by Robin Miles; Emily Henry's Beach Read and People We Meet on Vacation, read by Julia Whelan; Boyfriend Material by Alexis Hall, read by Joe Jameson; Sierra Simone's Sinner, read by Jacob Morgan; Life's Too Short by Abby Jimenez, read by Christine Lakin and Zachary Webber; The Hook Up by Kristen Callihan, read by Maxine Mitchell and Teddy Hamilton; and Kate Hope Day's In the Quick, read by Rebecca Lowman.
The other star was my library. I didn't differentiate between books I checked out from the library and those I read via a paid subscription service (Scribd mainly, some Audible), but I feel confident in saying more than half came from my public library. Shout out to Harris County Public Libraries and in particular my local branch, which is nothing more than a shack with a single window after our library flooded in Hurricane Harvey. Our librarians are wonderful, and interlibrary loan and e/audio loans have been vital in my access to books this year.
I don't have a plan for this year-end roundup. I keep a book log, and for some books, I copied dozens of quotations and wrote extensive summaries, and in others, I merely rated the book. So, how about I just share the things I best remember or my favorite quote/moment, and we won't worry about consistency or the illusion of order? Good? Good.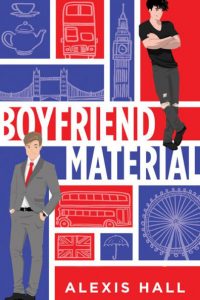 Boyfriend Material, Alexis Hall: Super funny. Super swoony. Grumpy/sunshine. Fake dating. Luc makes Oliver an "emotional support sandwich." A quote: "They got this idea that if I turned up and told you how much I cared about you that you'd fall into my arms and we'd live happily ever after. But frankly, they've wildly underestimated how fucked up you are.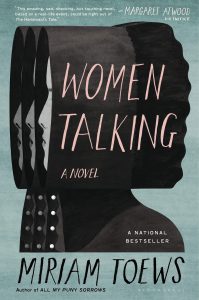 Women Talking, Miriam Toews: This is a fictional imagining of a true story about Mennonite girls and women who were drugged and raped by a group of men in their community and had to grapple with those men remaining in the community. It uses a frame – the book is a written as a recording of minutes of the women's meetings in which they decide whether to stay and forgive the men (they will be forced to) or leave. For the heavy subject matter, I found it surprisingly hopeful and not too overbearing. A quote: "There must be satisfaction gained in accurately naming the thing that torments you."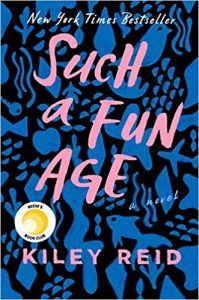 Such a Fun Age, Kiley Reid: Smart, funny, deeply empathetic. The first chapter and the final scene are perfection.
Love at First, Kate Clayborn: A hug in a book. A quote: "It was the way you said your lover's name, the way you sometimes softly asserted the fact of their being there, of their being yours."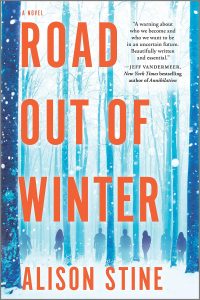 Road Out of Winter, Alison Stine: I could not put this book down. It's set in a near-future Appalachia where winter has come and never lifted. The main character is separated from her only family. She possesses some seeds and skill at growing things. She sets out to reunite with her mother and find somewhere more hospitable. I particularly love how Stine writes about gender in such an environment. A quote: "There had been suffering here forever, even before the cold came. Long ago, we had been forgotten in the holler, forgotten and left to make it on our own with no jobs, no hope of jobs. Now, cold wrung the worst from us."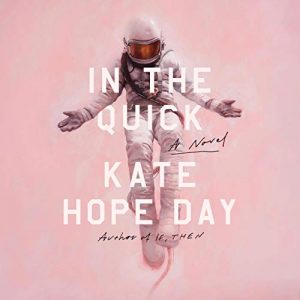 In the Quick, Kate Hope Day: It's Jane Eyre in space! No, really! My favorite aspect of this book was how well Day captures a creative mind at work, especially one creative mind collaborating with another. It's heady and crackling in the same way that love stories are. Rebecca Lowman's narration is the perfect accompaniment/vessel in the audiobook.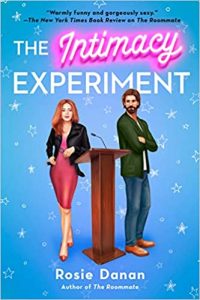 The Intimacy Experiment, Rosie Danan: The Roommate surprised me in the best way in 2020, and this follow-up lived up to my hopes. The female main character is a former adult performer turned sex educator and CEO. She's bold and a little brash, a woman wrapped up in many layers of defense, but her vulnerability is what put this book on my keeper shelf. Also, this is essentially a handbook for romantic intimacy. There's legitimately good advice in it.
Shipped, Angie Hockman: This is like The Hating Game but on a cruise ship. I liked the audio quite a bit.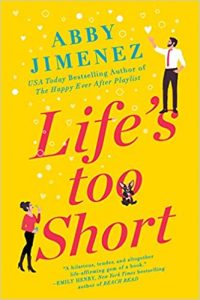 Life's Too Short, Abby Jimenez: Check your content warnings before you dive into this one. What sold me immediately with this book is that, in the very beginning, the male main character goes to do something about the incessantly crying baby keeping him awake in the adjacent apartment and winds up offering to help the woman caring for said baby, telling her to go take a shower. As a mother, this is peak fantasy stuff. (No, we would not entrust babies with strangers in real life, but shhhh.) This book was quite emotional. Zachary Webber's narration absolutely sells heartbreak and helplessness in the audiobook like no one else could.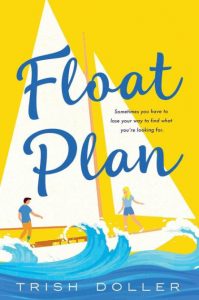 Float Plan, Trish Doller: More content warnings with this one, just FYI. The female main character sets out on a sailing trip she was supposed to take with her fiancé who died by suicide. She's not skilled enough to do the trip solo and winds up taking on an experienced sailor. They follow the itinerary at first but have to start charting a new course. Anna's journey through grief and into self-sufficiency and acceptance is the heart of this book, but the romance is integral, too. I wanted very much for a Happily Ever After with the two of them together, but this is the only romance I've read where the Dark Night of the Soul/the lovers' separation actually felt like it brought color into the book, like it allowed the story to breathe more fully, and I found myself not needing the HEA. (It is a romance, though, so don't worry.) Those pages that are usually so fraught and depressing open up the entire book in a way that I found surprising and skillful and very moving.
People We Meet on Vacation, Emily Henry: After Beach Read, I had very high hopes for this book, and Emily Henry did not disappoint. She's been compared to Nora Ephron for her romantic banter – a fitting comparison, especially since this book pays homage to When Harry Met Sally. It's about two friends who take an annual vacation together, but they haven't spoken in two years after something happened in Croatia, and now Poppy intends to salvage their friendship with another trip. There are so many moments I love in this book. The sick/care scene which should not be so . . . hot? The inside jokes that run throughout the book. A monologue in which Alex expresses his worry that he'll "find out I have fucking dick cancer or something and it's too late for me." When he carries her, injured, down a mountain with the caveat that she's not allowed to call him "Seabiscuit." A quote: "You make me weird. I'm not like this with anyone else."
Seekers of the Wild Realm, Alexandra Ott: This is a middle grade chapter book I read with my kids. Brynn wants to become a Seeker but she's up against sexism – there's never been a female Seeker in her village before. She'll have to compete with all boys for the sole spot, but she's not even allowed to participate in the training. Meanwhile, Ari proposes a trade: he'll pass along the training to her if she'll help him with the baby dragon he found, which he's been taking care of in secret. The characters all have a magic gift – healing, defense, nature, etc. – and I love that Ari's is empathy. He does a lot of the work in and for the book that female characters tend to do.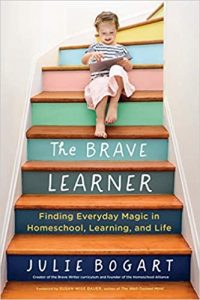 Brave Learner, Julie Bogart: This book is about homeschooling, but it's more widely applicable to parents, teachers, and anyone working with kids. The part that blew me away: "When adults ask kids to love learning, they're asking children to find academics pleasurable so that adults will be relieved of the obligation to nag."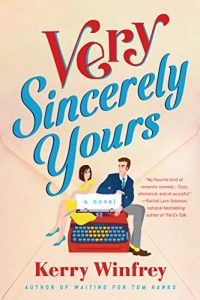 Very Sincerely Yours, Kerry Winfrey: Hot Mr. Rogers. Need I say more? Okay, fine, I'll say more. I think this book captures a Romance Hero Type that specifically ties into my next book on the list, The Heroine's Journey. I intended to write an essay at some point about such romance heroes, but alas, I never got to it. So, without a bunch of useful context, I will just say, I think Everett is a romance hero who is on a Heroine's Journey, and I think such romance heroes are very appealing because of their willingness to collaborate, the fact that they value community and tend to have solid relationships and supports, their performance of caretaking that is typically coded as feminine, and much more. Everett's job is literally to host a children's show about feelings, and while he has his own character arc that gives him nearly equal billing as a main character, he also serves as a prominent support person for the messier female main character. Listen, sometimes, we want a romance hero who does all the stuff women have been doing in books forever is what I'm saying. A quote: "'Buck up, you idiot,' he told himself, which made him feel like a fraud because he would absolutely destroy someone who told any of his child viewers something like that. He decided to try a different approach. 'It's okay to feel your feelings,' he told his reflection, which made him frown further because how the hell was he supposed to feel a feeling if he didn't know what it was?"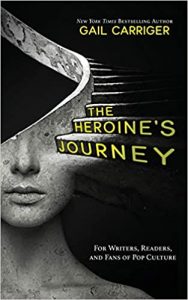 The Heroine's Journey, Gail Carriger: The Hero's Journey but for Heroines! This book compares the two and gives practical advice for writers who wish to craft a Heroine's Journey.
Seven Days in June, Tia Williams: Writers are always told not to write books about writers, but – as a writer, ahem – I love them a whole lot! This one is about two writers who, as teenagers, had a brief but intense relationship, and now, as adults, their paths have re-crossed, only to reveal that they have been writing to and about each other in their books! Check your content warnings on this one. A quote: "I've changed. [. . .] I believe this is what writers call a character arc."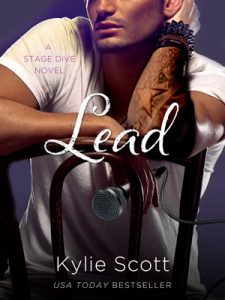 Lead, Kylie Scott: Another heads up on potentially tricky content. This is the third book of Scott's Stage Dive series, which is about a fictional rock band. Scott's books, to me, are pure escapism with fun tropes and crackling humor and surprising emotional beats. (I don't mean escapism in a pejorative way.) Jimmy's sober companion, Lena, realizes she's in love with him right as he goes through a heartbreaking loss that threatens his sobriety. In the audiobook, Andie Arndt captures the voice of the plucky-but-vulnerable-but-takes-no-shit heroine really well. A quote: "'You used to drink here. This place is a trigger for you.' He scoffed and spread his arms wide. 'This whole world is a trigger for me.'"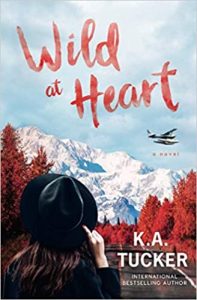 Wild at Heart, K.A. Tucker: This is a true sequel to The Simple Wild. It sticks with the same couple and picks up right where the first book left off, so don't skip the first one. Kind of a marriage-in-trouble book, though they're not married yet. My favorite thing about it is that both characters get to be grumpy. I love a mildly bratty, petulant heroine, probably because I am one myself. When Calla struggles to adapt to life in Alaska and complains about having to pee in the cold and dark "with wolves and shit around," Jonah laughs and says, "God, I missed your bad attitude."
The Layover, Lacie Waldon: Another book reminiscent of The Hating Game, but in this one, they're both flight attendants. The romance is great and gave me all the swoony, swoopy feelings in my stomach, but what I really love about this book is its focus on wanderers. Ava's parents are wanderers, and she's spent most of her life apologizing for her own rootlessness, even convinced herself she wants stability, to stay. But on her last trip as a flight attendant before marrying her fiancé and staying put, she faces the reality of giving up her job and her lifestyle, and she finds in co-worker Jack a kindred spirit.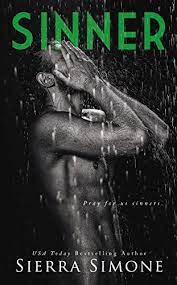 Sinner, Sierra Simone: This book. So, it won't be for everyone. It's about a guy who grew up Catholic, but a tragedy in his family made him leave the Church and any real semblance of religious faith. He runs into a friend from his youth – his best friend's younger sister, Zenny – who is about to join an order of nuns. She worries that she hasn't been tested enough to know if she's really ready to take her vows and leave behind a layperson's life. (Yes, that means sex, among other things.) She asks Sean to help her out with the matter, and despite a lot of guilt and resistance, he agrees. Now, listen, if you're here for the steamy scenes, you probably won't be disappointed? They are not, for me, the main draw of the book. I wasn't as interested in the "taboo" aspects of their relationship as I was in the book's concern with faith and forgiveness and grief, though the sexual relationship is important and central to the romance and Sean's character arc. (On that note, definitely check for content warnings.) This book made my list for three reasons: 1) the theological discussions the main characters have and how the book specifically addresses the tension of finding true comfort in Catholicism's particular rituals and prayers (things that, to me, a lapsed Catholic, feel unreproducible outside of the Church) while rejecting the institution, aspects of which are personally irreconcilable; 2) the methodical interrogation of Sean's faith, which culminates in one of the most heart-wrenching scenes I've ever read; I was so moved, I openly sobbed; and 3) Jacob Morgan's narration, which is so emotionally layered and authentic and masterful. A quote: "I could tell him every single ugly truth about watching a body fail, watching a body fail as it still holds a person you love beyond measure."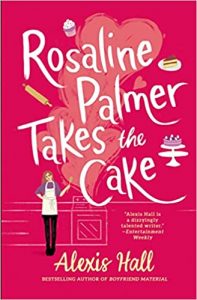 Rosaline Palmer Takes the Cake, Alexis Hall: If you like the Great British Bake Off, you'll like this book for the judges' comments alone. It's set on a similar baking competition show in the UK. The main character is a single mom trying to get out from under the help (and judgment) of her parents. Her daughter is precocious and delightful, and the romance is unpredictable.
Whiskey Boys, Phillip Hurst: Full disclosure, Hurst is a friend from my MFA, but I have long-admired his writing, and this collection of essays about a lifetime of bartending is achingly tender and funny and empathetic. Hurst renders other people with the kind of care you'd hope for only from your closest loved ones. One of my favorite essays follows a band of craft beer bartenders on a road trip to the headquarters of the new ownership for a training, where they're convinced they're going to be drug tested and that the offering of beer at lunch is a trap. As much love letters to people and places and the noble pursuit of a creative life as they are humorous and exciting tales from behind the bar, these essays hold a lot of unexpected wisdom.
The Fifth Season, N.K. Jemisin: The whole Broken Earth trilogy is great, but the first book slowly grew on me until I was completely captivated by the end. Syenite may be my favorite female character in a book ever. She's prickly, and she tends not to recognize love until she has lost it, but she is trying.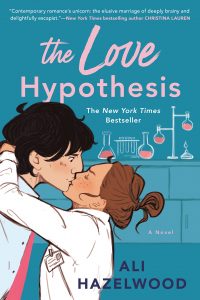 The Love Hypothesis, Ali Hazelwood: Grad school romance! Girls in STEM! Found family and fake dating! I loved this one. It hit a whole bunch of swoony buttons for me.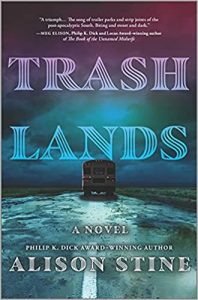 Trashlands, Alison Stine: The characters in this book are named after real-life endangered things like plants and coastal cities – Coral, Trillium, Miami. It's set in a future Appalachia ("Scrappalachia") where pluckers collect plastic trash, the currency of the climate-changed future, which then gets remade into plastic bricks by child laborers and shipped off to the elite cities to the benefit of others. The bricks are used to build homes and other buildings. You will not think of plastic the same way again after reading this book.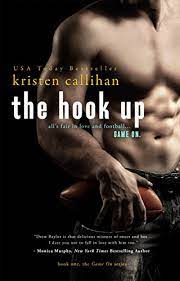 The Hook Up, Kristen Callihan: I expected this to just be a fun escape, but it went to places I didn't expect. The set up is that a late bloomer and a star college quarterback fall for each other, and they have to deal with his fame and her aversion to the spotlight. I won't give anything away, but there is a plot twist that turns the setup on its head in a big way, and I found the entire back stretch from that point on really nuanced and interesting. Maxine Mitchell's narration is really great. And honestly, I love Teddy Hamilton as much as the next lady, but Mitchell's guy voice gives him a run for his money.
Look at that! Another Extremely Long Book Roundup! If you read this far, I hope you've found a book worth giving a try. As always, if you ever want to gush about books with me, I am here for it. Comment or come holler at me on Instagram (@microaffections). Wishing you so many wonderful reads in 2022!