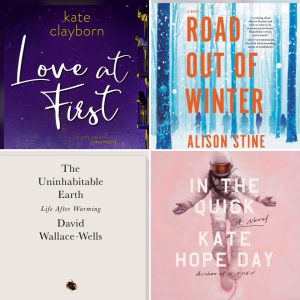 Another month, another roundup.
In March, I read eleven books, which included some romance, YA, literary/speculative fiction, and nonfiction. Here are my favorite March reads. (As usual, the quotes below have been transcribed from audiobooks. I did my best to get the right punctuation, but there are likely some discrepancies.)
The first book I read was Kate Clayborn's latest, Love at First, which is a contemporary romance that pays homage to Romeo & Juliet while doing its own, beautiful thing. When Will's estranged uncle dies and leaves him his apartment unit, Will's plan to turn it into a short-term rental sparks a feud with Nora, a resident who is determined to keep the tight-knit building exactly the same. She tries to scare him off with annoying (but harmless) pranks, but as he renovates the old unit and charms the other residents, Nora, who has loyally preserved her late grandmother's apartment as it has always been, seeks Will's help in making some small updates to her own place. This book checks so many boxes: found family, a lovely secondary romance, enemies to lovers, kittens . . . The title ties into a piece of wisdom that I won't spoil, but reader, I gasped when it was imparted.
I particularly liked Will's arc. At one point, in his perspective, we get this bit of insight: "Nothing was complicated when you had an enemy. It was you versus them. And you versus them stopped you thinking about the other problem, which was usually something more like you versus you."
What is Will's problem? Part of it is that, after overhearing criticism that he is reckless, rash, and selfish as a kid, he has spent his life trying very hard to prove that criticism wrong. He becomes a doctor – one with impeccable bedside manner. "I'm a responsible person. I'm a practical person. His own words now, the ones he'd used to win Nora, to stop the feud over the apartment. He'd meant them. Of course he had. They were the same words he repeated to himself every day for years until he'd believed them, until he'd become them. Will who works late. Will who stays even-tempered. Will who puts everyone else at ease." He tries so hard to be balanced, to not give in to the more intense impulses he has struggled to eradicate from his personality. Naturally, though, Nora brings that intensity straight to the surface.
If you tend to lean toward more literary fiction but are wanting to give romance a try, this book is a good gateway. Kate Clayborn's writing here is so smart, lyrical, and tender.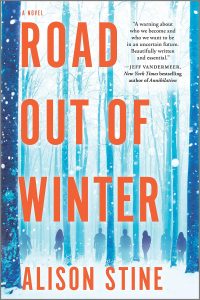 I read my next book by complete fluke. A friend tweeted, asking for book recommendations, and after plugging my go to comfort book, Beach Read, I scrolled through the other suggestions and came upon Alison Stine's Road Out of Winter. It was so gripping, I listened to the audiobook nearly without stopping, which I never do because I have three kids, and they always need things. But I stayed up late to finish it because I simply couldn't stop.
This is a climate apocalypse book set in Appalachia. The twentysomething protagonist, Wylodine, has been tasked with keeping her mom and mom's boyfriend's illegal pot farm running in their absence. When an unending winter descends upon the region, Wil sets out West with a handful of seeds and the hope to reunite with her mother and/or find someplace more hospitable for growing. She takes Greyson and Dance, two young men from her town, with her. Along the way, they pick up a young mother, Jamey, and her daughter.
Alison Stine gets a couple of things really right with this book. One is gender and how Wil navigates her world. Ever aware of the dangers men pose to her because she's a woman, Wil has to weigh whether to take Greyson and Dance along with her, has to calculate different dangers than they do, and intentionally dresses her body in the bulky clothes of cold weather and hard labor, not just for practicality, but also to fend off unwanted attention. When an unknown man turns up injured on her property in the beginning of the book, we see her caution: "It was just me out here. Me and this man. I heard Lobo's voice in my head, telling me not to be stupid, not to be a girl about this, not to trust anyone." But later on, for Jamey and her daughter, Starla, Wil goes against her own best interests to protect them.
The other thing that rings true to me is how the catastrophe itself unfolds slowly and with surprising mundanity, even when, as the novel opens, it reaches a tipping point. It's not a sudden, finite apocalyptic event. Instead, winter comes one year and simply never ends. It's not until the second time spring and summer don't return that the people begin to accept their new normal. "In August, people in town, when I shopped for groceries and fertilizer and diatomaceous earth, had finally stopped saying, 'What a ridiculous year. What an unusual year. This is one for the record books.' By August, it wasn't funny anymore."
Not only does everyday life change gradually in this perpetual winter, but this is a place where systems and safety nets have already failed. "There had been suffering here forever, even before the cold came. Long ago, we had been forgotten in the holler, forgotten and left to make it on our own with no jobs, no hope of jobs. Now, cold wrung the worst from us." The schools close. No government agencies or extra law enforcement come in to keep order, to help the people. This is a place already abandoned, just as, when climate change truly begins to reshape our lives, there will likely be many places just like this that will be hit hardest by now-unthinkable failures of systems and infrastructures, places that will be written off as casualties of large-scale climate disaster.
I loved Road Out of Winter so much it finally gave me the push I needed to read David Wallace-Wells's The Uninhabitable Earth. This book is not for the faint of heart, but it does give an essential and exhaustive overview of the kind of world we will live in as the Earth warms. Here in Houston, we already see the effects in increased severity of hurricanes and floods. Many of us have already begun to grapple with climate change in our daily lives, the anxiety brought on by a heavy rain, the foreboding of the next hurricane season. I think about our future here on the Gulf Coast nearly every day. When we move, probably in the new few years, it will be entirely because of climate change.
I dropped forty bookmarks in this book. It covers so much information, including a section on climate apocalypse narratives, which I found particularly interesting. "Complicity," he writes, "does not make for good drama," and "when we can no longer pretend that climate suffering is distant, in time or in place, we will stop pretending about it start pretending within it." At this point, he notes, we will see slapstick comedies and rom-coms set against a backdrop of the new climate reality. This is something I have been thinking a lot about as a writer and a person who does see the world changing around me but not yet reflected in media except in explicit (but futuristic) apocalypse narratives. At some point, it will be hard for me to watch shows and read books in which the characters never, in their daily lives, confront the effects of warming.
David Wallace-Wells covers the effects we will see here in the US – fires, drought, flooding, extreme weather events – but he emphasizes that it will be the places that contribute the least to warming that will suffer some of the earliest and most extreme impacts, bringing up climate justice and some people's calls for reparations to these countries from the biggest warming contributors. He writes that, "climate change may unleash as many as a billion migrants on the world by 2050." As we start to address upticks in routine catastrophic weather events, wildfires, food shortages, and shoreline erosion in the US, we will also have to decide how we will handle these climate refugees, which places we will protect or rebuild from damages and how much we will invest in them, what sacrifices we are willing to make to take meaningful action. The costs of renewable energy technology have fallen in the last twenty-five years, but, he points out, "Over the same twenty-five years, the proportion of global energy use derived from renewables has not grown an inch. Solar isn't eating at fossil fuel use, in other words, even slowly; it is buttressing it."
If you can get through the opening section, which felt to me like a sheer tidal wave of doom, the rest of the book is manageable – maybe because you acclimate to the horror? I did find most of it alarming, but often, my anxiety spikes came from worst case projections, which were then followed up by best case and most likely scenarios. There is some balance here, in other words, and, somehow, little crumbs of hope. What I did not find in this book – and it does not surprise me, given how thoroughly Wallace-Wells lays out the necessity for big systemic changes, led by governments and enforced in industry – was anything practical I could do on a personal level to make a significant difference, short of pressuring my representatives.
Still, I did not expect for my anxiety and fear about how our world will change to morph into deep gratitude to be alive right now on this beautiful, bountiful planet as we will never experience it again.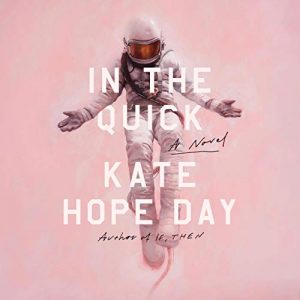 My last March book is Kate Hope Day's In the Quick, which, like Love at First, is an homage/retelling. This one updates Jane Eyre by setting it in space! For real! And I'm not mad about it.
Listen, I don't usually read reviews before I dive into a book, so I did not know this going in, and while I'm familiar with Jane Eyre, I didn't remember it well enough to have caught some of the early hints, so I was a little slow in realizing what I was reading. Even when curiosity led me to some blurbs that compared it to Jane Eyre, I thought it was a stretch until I got deeper into the book. Despite my having missed the connections initially, the story and the main character, June, do hold their own. While it probably adds a layer of enjoyment to know and like Jane Eyre, I don't think that's necessary to appreciate this book.
June is the niece of Peter Reed, whose innovative fuel cells power an expedition of National Space Program astronauts aboard the ship, Inquiry. He dies shortly after launch, and then the fuel cells fail, stranding the team in space. Soon, communication is lost as well. Around the same time, twelve-year-old June, with a gifted mechanical mind similar to her uncle's, is sent to the boarding school named after him, where she trains to become an astronaut. While struggling to catch up with her older peers in the program, she also seeks answers about what happened to Inquiry and how to fix the fuel cell, even after everyone has assumed the team dead. At eighteen, she goes on her first mission to a space station, where she figures out that the Inquiry team is likely still alive. Not long after, she goes to the pink planet, a moon base, to join James, one of her uncle's protégés who was part of the team that developed the fuel cells, and together, they work to solve the problem with hopes of rescuing Inquiry.
Sometimes, I had questions about how this fictional world compares to our real world – when and where we are, for example – and I ended up wanting more at the end of the book, but what I loved most about this book was how deeply immersed we are in June's mind. So much of her puzzling out mechanical problems echoes creative processes I'm familiar with, especially when she is a child, and her ideas surpass her ability to articulate and execute them. At twelve, she invents a mechanical device to carry items up stairs to help her aunt, but when the first model doesn't work right, June has to confront the difference between what's in her head and her ability to create it. "It was uncomfortable, this gap between my idea and this thing I'd made." Without getting bogged down in all the details of the fuel cells or the other projects June works on, we still get enough specific language about the work to feel that that it's real. Ditto things like less familiar effects of zero gravity on June's body, which point to either niche expertise or exhaustive research on the part of the author. I'm pretty convinced that Kate Hope Day, like June, possesses a particular brilliance herself.
Before he dies, June's uncle asks again and again, "What does it do?" and this becomes an anchor, the refrain that brings her back to the most basic essence of a thing. As a child, she observes her uncle with his students, their democratic but competitive, overlapping, impassioned conversations. She has pored over their notes, a series of questions, answers, arguments, each written in their own hand, as they tried to imagine all the potential problems with the fuel cells during their inception.
When June works with James to reimagine the cells, these are some of the most beautiful passages of the book, showing June and James's intellectual equality, their balletic collaboration, the short-hand they're able to speak with each other because their minds work the same brilliant way. It reads a little like falling in love. In these moments when Kate Hope Day dives so deeply into the workings of June's mind, whether working alone or with James, I feel as though I have entered into some kind of shared fugue state with her/them. Rarely have I seen such an accurate rendering of that headspace, the creative mind at work, making incremental progress, doubling back over previous ideas, turning the subject like a prism under light.
I also want to give a shout out to Rebecca Lowman, who narrates the audiobook. Her performances are always lovely, and this one is no exception.
***
If you've been reading these roundups, you may be wondering where my book-inspired art is for this month. (Probably not, haha.) I didn't make any. I will have to get back on it in April.
Speaking of April, there are so many exciting romances coming out this month and next. I'll definitely be reading Rosie Danan's follow-up to The Roommate, The Intimacy Project, as well as Sarah Hogle's newest, Twice Shy, both of which drop on April 6th. Then Sally Thorne's Second First Impressions on the 13th. Maybe when Emily Henry's People We Meet On Vacation comes out in May I'll finally stop pushing everyone I know to read Beach Read. Maybe.
Anyway, I'm looking forward to some very happy spring reading, and I wish you the same! As always, come yell with me on Instagram (@microaffections) if you read any of these books.