My February began right after a loss in my extended family and continued on with little health issues in my immediate family, fighting among our pets, a catastrophic winter freeze here in Texas that left us without power and water for about 22 hours (ultimately, we were far luckier than so many others!), and, for me personally, a brief run of just-okay books. But a few books stood out, and more so this month than most others, I really, really needed them.
I read seven books in February, but I'm going to include in my roundup one that I finished on January 31st because I didn't have time to fit it into last month's, and I just really loved it. This month's books were a mix of romance, literary fiction, and nonfiction.
I no longer include Emily Henry's Beach Read in my count, but just know that I read parts or all of it again frequently. I'm going to start a book club where we just read that one book, and every time we meet, we invite someone new who has just read it for the first time so we can gush with renewed fervor, and that's it. That's the whole club.
My first February book was actually my last January book, but it's fine. I make the rules here, and I'll allow it. This is the book I read while anticipating the finality of sad news I knew was coming, a kind of pre-grief, I guess. That week, I needed a hug from a friend, but we were (are) still in a pandemic, so I figured that wasn't going to happen. It didn't, technically, but this book, Sarah Morgenthaler's Enjoy the View was the next best thing.
Coming from an MFA background, I used to be drawn primarily to very serious literary realism. Even as a child, I preferred dramas with real people and believable conflicts over episodic cartoons where there were never any long-term consequences or character growth. In rom-com movies, I used to lament that the sillier, often slapstick or gross-out moments took me right out of an otherwise believable and engaging story.
But I've since come to appreciate that romance worlds can be close to our own in reality, and they can lean into fantasy in all kinds of delightful ways. The genre is full of deep character study, resonant emotional arcs, and transformative stories that center the experiences of women and often marginalized people. It is also full of fun and joy and hope. This versatility, I think, is underappreciated, particularly with romance writers who don't camp out on one end of the spectrum but play across its range.
Sarah Morgenthaler and her Moose Springs books, to me, perfectly thread the needle of moving, emotional romance that maintains a healthy dose of the quirky, fun, and fantastical, never venturing too far toward maudlin or cheesy.
In Enjoy the View, on one hand, there are thrilling, dangerous rock-climbing scenes that remain grounded in character-driven conflict between River, the risk-taking actress-turned-documentarian trying to reshape her career, and Easton, the expert mountain guide charged with keeping her film crew safe on a dangerous climb. On the other hand, there's also an anthropomorphized, lovelorn marmot who follows Easton up the mountain with heart eyes. Such whimsical animals are part of the Moose Springs world, from a fashion savvy, blind border collie to various local moose. The old me might have scoffed at this combination of silly and serious, but the me of today – and of that week of anticipatory grief – finds it a totally entertaining and delightful mix.
The other thing I loved about Enjoy the View (and the other Moose Springs books) is that the characters don't spend a lot of time in denial (to themselves or others) about their feelings. River and Easton don't play frustrating games. Though vulnerable, they don't hide their hearts too much. They have clarity about their feelings, and they communicate pretty maturely, even when things get tough. Their goals are at odds sometimes, but they are generally good, uncontentious people trying to do right by themselves and each other. What comes between Easton and River are things like her personal drive and subsequent recklessness, in service of her career, making it harder for him to protect her, which is not only his desire but also his job. They are both competent partners on the mountain, despite his role as her guide. They both make mistakes.
I loved this quote from River's colleague and friend (and apologies if the punctuation is off in any quotes here since I transcribed them from the audio): "'We make movies for a living. We show people excitement and love and romance. We make being afraid exciting and being rescued sexy. But real fear? It's not sexy. It makes you want to curl up in a ball, hide in a tent, and yell at the people you love. Real fear is awful…'"
While Morgenthaler characters have wonderfully playful, at times straight up weird senses of humor (like, these are actually quirky characters), the suspense side of things is unexpectedly gripping as well. I listened to the audiobook on my daily walks through my neighborhood, and my heart rate spiked higher than normal, and goosebumps broke out on my arms during one particularly hairy scene. Her pacing in these moments is perfection and her language wonderfully vivid. Morgenthaler's ability to shift from a jealous marmot to life and death is truly an underrated quality.
Easton has all the surface markers of an alpha hero – enormously tall, broody, muscly, very skilled at his job – but he's quiet, measured, and reasonable — not controlling or a jerk. Even when his emotions run high, he addresses River with honesty about his needs and respect for her as a person with autonomy, strength, and competence in her own right.
Here's Easton following a dangerous stretch of their climb where they both took risks that scared the other: "'You can make your choices, and I'll make mine. Hate to break it to you, but if you jump, I'm jumping after you. It's the way I'm wired.'"
Anyway, I loved it so much I drew Easton and the marmot.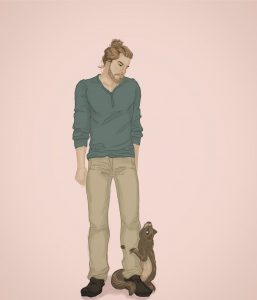 If you need a book that explores some emotional territory and flirts with high stakes danger with the safety of a happy ending and a heavy dose of joy, Enjoy the View would be a great choice.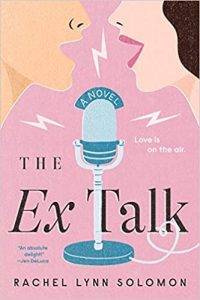 Next up is The Ex Talk by Rachel Lynn Solomon, which takes the fake dating trope and turns it up to eleven. In this one, Shay and Dominic are work rivals who, to save their local public radio jobs, team up to host a new show about relationships. The kicker is they must pretend to have dated and broken up, giving them a unique perspective to offer their listeners. They've got the chemistry and antagonistic dynamic to pull it off. Of course, their work brings them closer, and soon they're smack in the middle of an enemies to fake exes to friends to lovers to . . . well, I won't give too much away.
Shay Goldstein is a messy Millennial who has been at her job in some capacity for years, still feels like she's faking adulthood despite owning a house, and has been grieving the loss of her father, whose own love of public radio led her into her career. Dominic Yun is the new hot shot at the station. My favorite running joke of the book is that he talks so much about his master's degree in journalism from Northwestern that he winds up having to donate money via "Dominic's Master's Jar" every time he brings it up. If you love NPR, you will absolutely fall for the setting and side characters in this book, which are rendered in lovingly authentic detail. There's a rescue dog named Steve, too.
Here's a little drawing I did of the jar.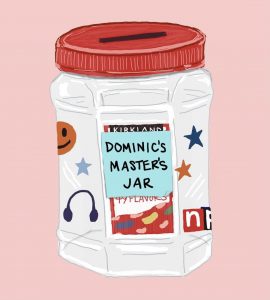 What surprised me with this book was how well it captured that Millennial feeling of still faking adulthood, how hard it is to make friends after college, and how messy and nonlinear grief can be. Some of my favorite romances are those that pair the swooniest, sweetest, sexiest love story with deep loss like this book does, because both parts of the story complicate and enrich the other. Grief, in this book, is rendered with real care.
Take this beautiful quote, for instance: "The thing about losing someone is that it doesn't happen just once. It happens every time you do something great you wish they could see. Every time you're stuck and you need advice. Every time you fail. It erodes your sense of normal, and what grows back is decidedly not normal. And yet, you still have to figure out how to trudge forward."
My only hesitation with this book was the lie that kicks everything off – that Shay and Dominic are exes. I resisted it at the beginning, not just because I knew it would have to come back to bite them in the butts, but because it also creates personal conflict for each of them — which is also kind of why it works. Shay worries what her father would think of her while Dominic objects to the journalistic ethics of it. Every time I remembered that this lie would ultimately threaten everything, I felt such dread! But the story is so compelling, the characters so well-rendered, and their relationship so beautiful that I was willing to go with it. The fallout does come, and I have to hand it to Solomon. She earns every drop of dramatic payoff. So, if you like a romance with real stakes and big consequences, this may be the book for you.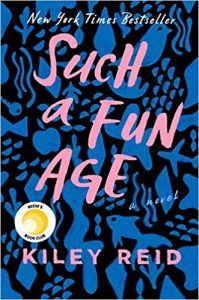 My final read of the month was Kiley Reid's literary novel, Such a Fun Age. This book takes on the relationship between parents and paid caretakers, weaving in race, privilege, feminism, modern emerging adulthood, and female ambition. The first chapter is an absolutely stunning piece of work on its own, setting the stage for the rest of the book.
Alix, an ambitious and image-savvy, wealthy white woman asks her twenty-something, Black babysitter, Emira, to take her three-year-old daughter out of the house late at night during a minor crisis. At the grocery store where Emira takes her, a security guard questions Emira's relationship to the little white girl in her charge, leading to an escalating confrontation which kicks off the rest of the book.
After the incident, Alix realizes she knows very little about Emira and becomes eager to befriend her, while Emira, aimless, broke, and about to lose her health insurance, feels torn between catching up to her more successful friends and staying with Briar, her "favorite little human," in a role that makes her feel competent. Meanwhile, the women's relationship is further complicated by Kelly, a "woke" white man with connections to each of them.
This book is surprisingly funny and heartfelt despite its sharp social observations. Here's a book where deeply flawed people are rendered with immense empathy. The betrayals are shocking, and at the same time, they come from good (or at least mixed) intentions. If you can help yourself while helping another, is that really so bad? What if you can exact revenge in the name of protecting someone? My feelings were all over the place with these characters. It takes a truly, deeply humane writer to pull off a book where the characters commit everything from petty slights to truly ugly betrayals, and yet, you also understand and even root for them at times.
The real gems here are Emira and Briar. The curiosity, tenderness, and love Emira feels for her charge is the beating heart underneath everything else. I won't give the ending away, but in a mostly uplifting and well-earned ending, the final image slayed me.
A quote: "There were all these markers of time that would come to mean nothing. Was Emira just supposed to exist on her own at 6:45 knowing that, somewhere else, it was Briar's bath time? One day, when Emira would say goodbye to Briar, she'd also leave the joy of having somewhere to be, the satisfaction of understanding the rules, the comfort of knowing what's coming next, and the privilege of finding a home within yourself."
So that's it, the books I loved in February. As always, I wish you another month of great reads this March. And, hey, if you want in on my Only Beach Read All The Time Book Club, let me know!