Did you set any reading goals this year? Or are you like the many, many people who have struggled to read during… all this? *gestures wildly at everything*

I have never set any reading goals for myself, partly because that sounds like work that might unnecessarily complicate a source of pleasure (I've already been to grad school, thanks) and partly because, until recently, I didn't have a lot of time for reading. But since I've been managing to read every day for months now, and since I got this beautiful reading log/journal for Christmas, I thought it would be kind of fun to keep track of my reading this year and share my favorite books.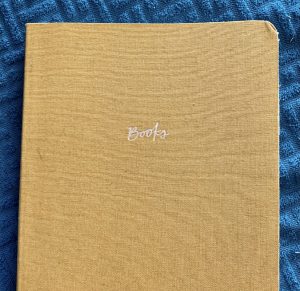 I am not setting a book number goal, but I do intend to read every day. This isn't a goal about achieving anything, though. It is truly self-care. If I don't want to read, I won't force it or feel bad for not doing it. So far this month, I have read every single day, even the day I had a stomach bug.

I also want to create some art from/about what I'm reading. I started with a drawing for Alexis Hall's Boyfriend Material and another for Miriam Toews' Women Talking. I won't make something for every book, just the ones that spark a creative impulse.

And finally, I want to do monthly roundups of what I've read. I've decided not to review or list every single book, just the ones that I really want to talk about. My goal, then, is to write up something about four books per month.
This month, I've read eleven books, DNFd two, and stopped halfway through one with the intention of returning to finish it another time. They were a mix of romance, creative nonfiction, craft book, and literary fiction. One of the eleven books was an old favorite, Beach Read by Emily Henry, which I actually re-read three times in a row on a particularly bad week. All but two were audiobooks, which is basically the only reason I'm able to read as much as I do. This is an anti-audiobooks-don't-count-as-real-reading space!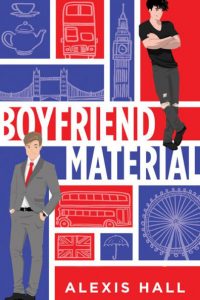 The first book I need to tell you about is also the first book I read this year: Alexis Hall's Boyfriend Material. Luc, the fame-adjacent son of a British 70s prog rock star, needs a wholesome fake relationship to boost his image following some bad press in order to keep his non-profit job because his antics are costing them donors. The guy he asks to be his fake boyfriend is Oliver, a friend of a friend and a buttoned-up barrister with strict ethics. It's trope-y and swoony and hilarious — an actually, truly funny rom-com — and in addition to being a pure delight of a book, it has many surprisingly introspective, emotional moments. The characters are complex. The writing is vivid and energetic. I smiled through nearly the entire thing. It was a hell of a first read for the year.

I bookmarked several favorite quotes in this book. Here's one from Luc, the main POV character, right after he proposes the fake dating setup to Oliver, and it doesn't go quite as planned: "In his zeal to get away, Oliver collided with one of the potted plants outside the restaurant, just about managing to grab it before it came crashing down, which basically meant he'd spent more time voluntarily touching a ficus than he had me."

And this one, when Luc shows up with his friends unexpectedly at Oliver's doorstep following their breakup: "'They got this idea that if I turned up and told you how much I cared about you that you'd fall into my arms, and we'd live happily ever after. But frankly, they've underestimated how fucked up you are.'"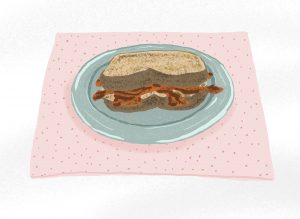 The drawing I did for this book is of the "emotional support sandwich" Luc makes Oliver when he's having a terrible day.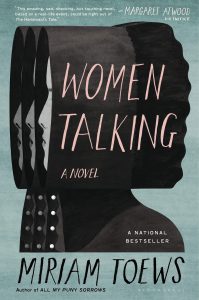 My next favorite book was Miriam Toews' Women Talking, which is based on a true story about women and girls in a Mennonite colony who were drugged and raped by a handful of the colony men repeatedly. In the book, a once-expelled but recently returned Mennonite man who spent much of his life outside of the colony, August, gets asked to record the minutes of a secret meeting of some of the women because they cannot read or write. The men who had been involved in the assaults were jailed outside of the colony, but now that they are being bailed out by colony leaders, they will return soon, and the women will be forced to forgive them to maintain the harmony of the group. They hold the secret meeting to determine what they will do — stay in the colony or leave. The entire novel takes place over a couple of days using the minutes as a frame. It is a Socratic dialogue about patriarchy, religion, love, and forgiveness that manages to be surprisingly light and hopeful at times even as the women debate the very real stakes of protecting themselves and their children at the cost of their faith and relationships. I wish I could get everyone to read this book, but obviously, it could also be a triggering read for many, so that's important to note.

One thing I really like about the women's conversation is that talking doesn't typically make a strong plot, but the conversation itself creates the possibility for the women to change their fate, to take action. At one point, they talk about how they don't have a map, don't know how to read a map even if they had one, don't know where they would go if they leave, don't even know where they are in the world now because they are not educated and are so deeply isolated, and Ona, who asked August to record their minutes, suggests that maybe they can make their own map as they go. They will create the world they seek. They will dream it, draw it, talk it into existence.

A few quotes:
"It's the quest for power on the part of Peters and the elders and on the part of the founders of Molotschna that is responsible for these attacks because in their quest for power, they needed to have those they'd have power over, and those people are us, and they have taught this lesson of power to the boys and men of Molotschna, and the boys and men of Molotschna have been excellent students. In that regard."

"There must be satisfaction gained in accurately naming the thing that torments you."

This meta statement about the women's "plotting" to leave and the plot of the book: "There's no plot, we're only women talking."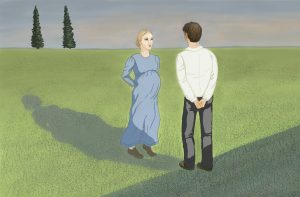 I drew Ona asking August to record the minutes of their meeting the evening before the secret meeting. Later, this scene is revised at the end of the book to reveal more detail, but this was inspired by the version of it in the beginning of the book. "Ona and I avoided the shadows as we spoke. Once, in mid-sentence, the wind caught her skirt and I felt its hem graze my leg. We side-stepped into the sun, again and then again, as the shadows lengthened, until the sunlight had disappeared and Ona laughed and waved her fist at the setting sun, calling it a traitor, a coward."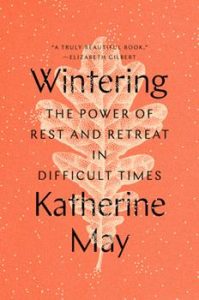 Book three is Wintering: The Power of Rest and Retreat in Difficult Times by Katherine May. I feel like this is essential reading for such times as we are living through right now, and I've recommended it to, or purchased it for, several people. May interrogates the idea of cyclical seasons, hibernations, retreats, and periods of darkness in both the natural world and in our lives. She advocates for embracing these stretches, using them to attune to and satisfy our inner needs, to rest and replenish ourselves, rather than fighting to return to normal as quickly and painlessly as possible.

Quotes:
"There were times in those early years [of motherhood] when I thought nobody would ever listen to me again, that anything important I had to say was now crushed under the weight of the bag on my shoulder full of nappies and snacks and wipes and changes of clothes."

"Some ideas are too big to take in once and completely. For me, this is one of them. Believing in the unpredictability of my place on this earth, radically and deeply accepting it to be true, is something I can only do in glimpses."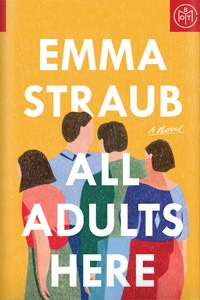 Then there's Emma Straub's All Adults Here, a literary family drama about a widow and her three adult children navigating shifting relationships and roles over time, forgiveness of very old mistakes, having and being fallible parents, and redefining oneself within a family. The story itself is sometimes a bit slow, but the writing, on a sentence level, is gorgeous. I was particularly drawn to the idea that children expect their parents to have all the answers, but often, they/we don't. Some reviews pitch this book as happy. I didn't particularly find it all that happy, though it does have a hopeful trajectory.

Quotes:
"Childhood was infuriating this way. She'd felt it over and over when one of her children, all three of them, would inevitably forget the words to a song she'd sun to them 500 times or a book they'd read curled up together six, seven, eight times a day, and then time passed and they had no recollection, and the information was stuck there in Astrid's head marked as important."

"Astrid wished that there was a button everyone could push that immediately showed only their good intentions. How much pain that would save."

So, that's one month down! What are you reading? What are your reading goals this year, if you have any? I wish you lots of joy in books this year, whatever and however you are able to read.