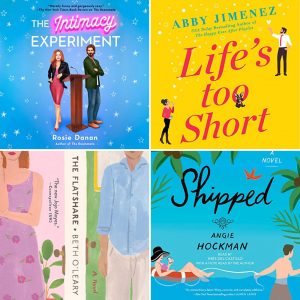 April was a pretty fantastic reading month for me. So many great romance novels came out this month, and I read them aaaallll (okay, not even close to all, but many), including some not-new releases. I read nine books, all as audiobooks. (As always, I apologize if any quoted selections have the wrong punctuation as they are transcriptions from the audio.)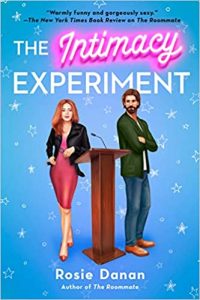 One of my favorite books of 2020 was Rosie Danan's The Roommate, so I was very excited about her follow-up, The Intimacy Experiment, which follows Naomi, adult performer turned sex positive start-up co-founder, and Ethan, a young rabbi looking to boost membership at his struggling synagogue. Naomi wants to teach more formally about modern intimacy and sex, but so far, academia wants nothing to do with her because of her past. But Ethan sees the value in her ideas and thinks the class will attract younger people, who will hopefully then give the synagogue a try. The higher ups, however, aren't totally on board with the class or Naomi's history.
The story unfolds over the weeks-long seminar, each class focusing on a particular aspect of intimacy, neatly telegraphing the romantic trajectory between Naomi and Ethan upfront. I love it when the framework of the plot is explicitly and expertly woven into the story as part of its content. It's what I love so much about Beach Read, which begins with, "I have a fatal flaw," and uses the POV character's job as a writer to use the fundamentals of plot and character, the language of stories, in her interiority to illuminate character growth, romantic development, and the story of the book itself.
In The Intimacy Experiment, we learn early on that the course will cover seven milestones: how to find a partner, a first-date framework to assess if you like the person, communication, integrating your partner into your life, physical intimacy, delving deeper into your past and future, and, finally, how to break up. If you read much romance, you know already that a breakup or separation will come at some point, so the laid out trajectory doesn't exactly spoil anything, but it serves as a constant source of background tension, a reminder, as Naomi and Ethan fall in love, that their happily ever after isn't a sure thing – a nice little trick to work against the genre's promise of an HEA or at least a Happy For Now. It also rachets up the anticipation for the fun stuff. (There is legitimate steam here, folks. But like The Roommate, it's also incredibly heartfelt and sweet.) And when the book exhausts its framework, when the seminar ends, we don't know what will happen next. It's a clever structural choice that elevates the book.
Naomi has had to develop a thick skin to survive, and she uses that shield to handle people's judgment, doubt, and rejection as she pivots to speaking and teaching about intimacy, but a big part of her seminar – and a big part of falling in love – is learning how to be vulnerable. We learn early on that Naomi is pulled toward things that are self-destructive – drinking sugary sodas, drags on cigarettes even though each inhale shortens her life. "There was something about flirting, just a little – the tiniest sip – with her own destruction that appealed to the darkness in her."
Later, she reveals to the class, "'I, for example, consistently fall for people I know I can't have, as a way of avoiding opening myself up to love," and admits, 'knowing your weaknesses doesn't make you immune.'" This is a thinly veiled admission to Ethan, with whom she thinks a relationship would be impossible because of her history, because she's "not Jewish enough," because her reputation would be too big of a hurdle for them. She thinks of herself as dynamite at one point – "no great tragedy when dynamite destroyed itself, not when that was exactly what it was designed to do." In other words, vulnerability is hard for Naomi, and seeing her choose to override all her self-protective instincts and truly open herself, not just with Ethan, but with the class, with the synagogue, with the world at large, is honestly quite moving.
Part of Naomi's journey is also re-connecting with her Jewish faith. I really appreciate that, while Ethan's invitation to have her teach at his synagogue helps her start that journey, she seeks further mentorship from a different rabbi at a different synagogue altogether, and it is 100% a choice she makes for herself, not something Ethan pressures her to do, nor something he instructs her in. Ethan accepts Naomi exactly as she is from the beginning, all facets of her, from her previous work to her faith. He also experienced a deepening of his faith after losing his father a handful of years earlier, which led him to leave his job as a physics teacher and devote his life to his faith.
This book is ambitious in how it portrays sex and sex work, how it tackles intimacy and romance alongside religion, and in its deep empathy for its characters. It's also honestly not a bad guide to modern relationships. Sometimes, books with a premise like this avoid actually giving you the meat of the class the character is teaching (or the book they're writing, or whatever), but pieces of Naomi's lectures are on the page, and there's some pretty great stuff in them, especially the lecture on surviving a breakup.
Like The Roommate, the emotional depth here might be surprising just based on the jacket summary, but these two books together really cement for me Rosie Danan's aesthetic and talent as a writer – she explores a whole range of emotional and physical intimacy with authentic care. You don't have to read the first book to start this one, but I highly recommend both.
Content warnings here for mentions of anti-Semitism, revenge porn, verbal sexual harassment.
Next up is Angie Hockman's Shipped, which one blurb described as The Hating Game meets The Unhoneymooners – a pretty accurate description. If you liked either of those books, you'll probably enjoy this one.
Henley works for a cruise company and cannot stand Graeme, the social media guy who works remotely and who once received credit for work that was hers. Now, they're up for the same promotion, and in order to better prepare for their presentations, they must go on one of the company's cruises to the Galapagos. This is a classic enemies-to-lovers workplace romance in which we get Henley's POV exclusively, so our understanding of Graeme evolves along with hers, very much like The Hating Game, right down to the fact that the "enemy" isn't actually an asshole to the main character and then magically changes his behavior once they get to know each other. He's more an enemy-by-misunderstanding.
Some side stories I really enjoyed with this one are the relationship between Henley and her sister, who tags along on the cruise, and the acknowledgment on the page of how humans' interactions with the wild world affect it. There's an author's note at the end, further addressing this, and as someone who has recently been doing a lot of reading about climate change and thinking about my specific location on the Gulf Coast, I really appreciated how she wove her convictions organically into the story in a way that didn't feel preachy or like the hidden point of the book. I have recently been thinking about how the stories we consume in books, TV, and movies rarely reflect warming and the changes we are currently living through and will continue to live through, other than apocalyptic/extreme scenarios, so this was a real bonus to me. It's still more about conservation of places and species "out there," but the way conservation plays into the story as a whole feels reflective of our world now, not ten or twenty years ago.
Henley is a very hard worker who struggles to find balance in the rest of her life. She wants her work to speak for itself, to be valued for her ideas, and to earn the promotion because of her efforts, just like she wants others (Graeme) to be evaluated for the same things, but it's clear that her boss has a better rapport with Graeme. With her, he talks down to her, calls her cutesy nicknames, and casually touches her inappropriately. She feels she is constantly working to prove herself.
So, when Graeme fibs about being a beginner at snorkeling so he can join her, partly because he knows she has anxiety about deep water after a childhood near-drowning incident and partly because he wants to hang out with her, and she realizes he is actually an experienced scuba diver, she accuses him of "bringing the outfield in." She explains that in gym class, when a girl came up to the plate, the boys would all walk in, not expecting her to hit as hard or as far as the boys. Without giving too much away, I like how this thread of the story is handled, even once we realize that Graeme is not the enemy she thinks he is.
The best part of an enemies-to-lovers story is, of course, the snappy banter, which is delightful in this book. Not only do we learn that Henley's combativeness with Graeme actually means something deeper to him; but we also get funny/sexy exchanges like this one:
"'How do you feel about me?' I whisper.
'Usually? Irritation and an urge to shove a whipped cream pie in your face. But also desperation, desire, and fuck, I want to kiss you.'"
Content warnings for loss of a parent by terminal illness and mentions of an ancillary abusive relationship.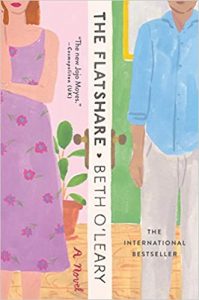 A friend recommended Beth O'Leary's The Flatshare with the heads up that it centers around an emotionally abusive relationship – not the central romance, obviously. Having experienced a similar relationship myself in the past, it brought up some old memories and feelings for me, but I appreciated how authentically Tiffy's story was conveyed, particularly how she needs distance and time away from the relationship to even begin to understand the dynamic and what it was doing to her and how the residual effects of gaslighting and being otherwise manipulated continue to disrupt her post-relationship life.
Remarkably, this book didn't feel heavy to me, despite the subject matter, and though I was skeptical about how quickly Tiffy might wind up in a new relationship while still healing from the previous one, I thought a lot of care was given to that journey. The romance with Leon develops very gently, first establishing friendship well before romantic interest, and she has other sources of support besides him, including friends and a therapist.
For perhaps the full first half of the book, in fact, Tiffy and Leon don't even see each other in person. He works nights as a hospice nurse, so he rents out his one bedroom flat for the off hours, returning during a typical workday shift to sleep. (He sleeps at his ill-fated girlfriend's place on weekends.) This is technically the Only One Bed trope. They do share the bed, but they are never in the same place at the same time. Even so, she takes the left, and he takes the right.
I love the scene when Tiffy arrives and realizes, for the first time, what exactly this flatshare setup will look like. "I look at my lovely, tie-dyed blanket lying across the foot of the bed, and all I can think is that it really clashes with Leon's duvet cover, which is manly black and grey striped, and that there's nothing I can do about that because this is as much Leon's bed as mine, whoever this Leon man is, and that his semi-naked or possibly fully naked body sleeps underneath that duvet. I hadn't really confronted the logistics of the bed situation until this moment, and now that I'm doing it, I'm not enjoying the experience."
One of the highlights of this book for me is how it explores the intimacy of sharing a space, even when the other person isn't in it. Tiffy and Leon leave each other notes, so they do have an avenue to get to know one another – and Tiffy is quite forthcoming and open, which helps – but they also observe things about each other based on their belongings – how they take their tea, whether they were in a hurry when they left, etc. They cook and bake for each other, leaving leftovers to make life a little easier for the other. Leon, who is usually pretty reserved with both his feelings and his words – even his narration is in clipped statements and fragments – begins to share some of his life in the running conversation on papers strewn about the flat.
Leon finds all of Tiffy's belongings a little overwhelming, particularly all her throw pillows, lava lamp, and the colorful dresses she leaves hanging around everywhere, though he concedes space to her he hadn't realized he would need to give her, and he comes around to like her bean bag chair. Tiffy's discovery of a bag full of scarves under the bed briefly takes her to a funny, if dark, place: "there was quite a large number of scarves in there. At least ten. What if he stole them? Shit, what if they are trophies of the women he murdered? Maybe he's a serial killer. A winter-based serial killer who only strikes in scarf weather." (He's not.)
There's a nice secondary story about Leon's brother, who calls the flat occasionally from prison. Ironically, this brother helps propel the romance beyond what Tiffy and Leon are initially capable of despite being even further removed than they are from each other. Leon and his brother also have some understanding of emotional abuse, having witnessed their mother endure similar relationships, which gives them both some insight into Tiffy's experience. I appreciated this exchange, when Tiffy has a panicked reaction to growing physical intimacy with Leon, a residual trauma response, and he assures her it isn't her fault. "'Well, I did date him. Voluntarily.' My tone's light, but Leon frowns. "Relationships like that stop being about voluntarily very quickly. There's lots of ways someone can make you stay with them or think you want to.'"
I definitely can't speak for anyone besides myself on how authentically this represents emotional abuse in a romantic relationship, but it worked for me, and it reaffirmed just how grateful I am for the same friend who recommended the book. She saw a lot of what I went through, and even though we fell out because of that relationship and choices I made, we've since reconnected. I'll never know just how hard it was for her to witness that or to decide how best to be my friend when I wasn't ready to leave, but she was one of few sources of absolute joy and love and security to me amidst a dark time, and I can't imagine how much harder it all would have been without her. So, not to get too emotional in this book review or anything, but to the people who are there, who see, who remember when we've gotten all turned around and can't even tell what's true about anything anymore . . . you are everything.
Obviously, there's a big content warning here for emotional abuse but also stalking. The circumstances of Leon's brother's imprisonment and some brief mentions elsewhere in the book include racism.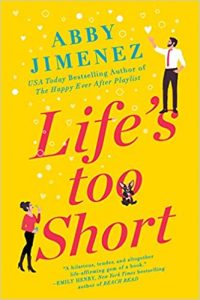 Finally, and in keeping with the content warnings and the big emotional content, I have to talk about Life's Too Short by Abby Jimenez. This is the third in a series, though it also stands alone, and according to the author's note at the end, the main character, Vanessa, was modeled after a real-life YouTuber with a terminal illness. In the book, Vanessa has a genetic strain of ALS, and since it can't be tested for, only diagnosed by ruling out other diseases based on progressing symptoms, Vanessa opts not to spend her life worrying about whether or not she has it (though she has a possible early symptom) and instead live as fully as possible, which means travelling and posting to her YouTube channel about her adventures to help raise money for ALS research. She already knows that if she develops clearer symptoms of the disease, she won't seek treatment since there isn't a cure, and medicines and trials bought her older sister, who died from the disease, very little time while affecting the quality of the time she did have.
Does this sound like an impossible romance? I was tempted to seek out how this one ended. I remembered an absolutely heart-breaking minor character death in another of Jimenez's books, and even though this is billed as a romance, I wasn't certain there would be an HEA. I don't want to spoil the ending here, but as I was reading and imagining the various ways it might end, I considered that notion of happily ever after as well as happy for now. I completely understand why the promise of a happy ending matters to readers of the genre, so this is not at all a criticism of either the genre or its readers, but I started to think, what does it say that someone with a terminal illness is such a tricky protagonist for a romance? (And here I mean the genre definition of romance, not Nicholas Sparks types of love stories where the characters die at the end…) Does it suggest that people who live with a terminal illness aren't worthy of love, or that their love is any less beautiful or important than someone who may live well into old age (or may not because life is unpredictable)? Does it make a difference if their hand dealt is still bad but they at least survive through the final page of the book?
I'm also a total outsider to the terminal illness/disability community, so I hesitate to review this book and make any assumptions about how Vanessa's illness and her choices (and Adrian's reactionary feelings and choices) do or don't reflect the experiences of those with similar conditions. There's more here, too, that treads similarly tricky waters, including Vanessa's younger sister's addiction, her father's hoarding, and Adrian's anxiety and control issues. Content warnings abound, in other words! But for what it's worth, my own personal reading of this book overall is that it is deeply emotional, that it does a lot of work to earn the ending I thought it was going to have as well as the one I didn't (how's that for cryptic), and it is thankfully very funny to offset some quite heavy content.
Also, the meet cute in chapter one is essentially lifted straight out of my fantasies from when my kids were babies. (Mild spoilers in this paragraph and the next, so skip if you don't want them!) Vanessa has just become the temporary guardian of her infant niece, and the baby's crying leads Adrian to knock on her door at 4am to ask her to somehow quiet it. Of course, this woman he's never spoken to before is on the brink of a breakdown because she has tried everything already. She tells him off and slams the door in his face. But Adrian, who has a strong compulsion to fix things and heart of gold, knocks again, and here's where my fantasy was translated directly onto the page:
"I made a give it here motion with my hand. 'Give me the baby.'
She stared at me.
'Go take a shower. I'll hold her.'
She blinked at me. 'Are you kidding me?'
'No, I'm not. You obviously need a break. Maybe it will help.'"
Listen, I realize that it's unrealistic and inadvisable to let a stranger into your apartment to hold your baby in the middle of the night, but in the safe hands of a romance, this is literally the pinnacle of swooning for me. Once, when my twins were babies, and my oldest was a toddler, I carried my inconsolable babies out into my front yard after hours of them crying, praying a nice neighbor would come out and help me do something, so I felt this on a deep level. (Shockingly, they did not.)
There's some really poignant wisdom in this book as well, like this gem from a side character: "'Took me a long time to realize that just because you don't recognize the fight they choose doesn't mean they're not fighting.'"
Oh, and if you're an audiobook listener, the narrators on this one, Zachary Webber (a long-time favorite of mine who just gets better and better) and Christine Lakin, are so good. Such an emotional story really needs narrators who can handle it, and they were great choices.
Not a bad selection for my birthday month! The May release I'm most looking forward to – and probably everyone else so I will maybe shut up about Beach Read ­­– is Emily Henry's People We Meet on Vacation. Happy May reading!