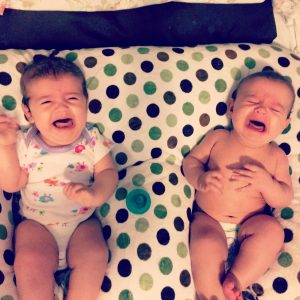 The babies were crying. The dog was barking. My son had just smacked me across the back with a snapped off, quarter-inch thick tree branch from the yard. My husband was unreachable. I cried. I held the babies, all three of us crying, and walked aimlessly around strewn toys in the living room, trying to come up with a plan, or just the first step of a plan. And the best I could think to do was walk out to my front yard and wait and hope a neighbor would hear or see me and come help. Nobody did.
After a few minutes, I took the babies to the back yard instead. They calmed down, but soon mosquitoes drove us back inside. I changed their diapers. I put on a smile and did wild jazz hands and sang cheerfully to keep them from falling apart again. Eventually my husband came home.
This is what having twins and a three-year-old has been like for me. Not always, of course. But often enough, I am out of energy, out of ideas, and out of my mind. When I took the babies to the front yard, I thought someone would happen to be out watering their lawn and, without commenting on my emotional state, say, "Oh, what beautiful babies. Could I hold one?" Soon after I walked out there, though, I saw myself from a different perspective. I realized how ridiculous I looked. No one was going to help me. They were going stare curiously from their window, wondering what on earth I was doing and why I wasn't containing the screaming voices to my own home. Or I don't know. That's what I would have done.
I've said this before, but it feels more urgent than ever: there should be parenting centers within a reasonable drive where people with babies and young kids can go in their desperate moments. At these centers, there should be a staff who can calm an anxious parent, offer arms for a colicky or stressed baby, or simply be a presence exuding solidarity, support, and safety. There could be free or affordable classes on parenting. There could be consultants on sleep, breastfeeding, and nutrition. There could be groups for people struggling with postnatal mood issues and more. But the important thing is that it would be a safe place to go, an answer, the first step of a plan.
I realize this is a pipe dream. We don't care nearly enough about the practical needs of mothers and families, especially those for whom hiring help is a hardship. We expect people to manage on their own. It's hard to find a sense of community among parents of young children because we are less connected in general, and we don't feel responsible for other people's kids. We feel judged. We worry when our babies cry or our toddlers scream at Target. Or I do anyway. So I wouldn't expect to actually see these kinds of centers pop up, and certainly not ones that are funded and, therefore, accessible to people who need them.
But wouldn't that be amazing? Wouldn't it be a shining hope in the darkest day? How many people would grip their steering wheels to the sound of a screaming baby, knowing they just had to get there, instead of the walls closing in at their home, their bodies trembling from feeling out of control? Maybe a caregiver would not shake or hit a baby. Maybe a parent's anxiety or depression would be caught sooner and alleviated.
In Houston, there is a place called The Motherhood Center. I came across it while pregnant and again recently as I searched for a postpartum support group. It's a center where one can find sleep trainers and doulas, take a newborn or breastfeeding class, get a massage, and do mommy and baby yoga. It's the only place I've stumbled upon that sounds sort of like what I've imagined. But there's a price for the services there. It is self-described as a "mommy country club" located in River Oaks, a famously wealthy part of the city. You can buy gift packages for services in the range of $350. To me, it feels like a spa, like a lovely luxury. Find your lactation consultant the same place where you do Pilates and get a deep-tissue massage.  So I guess there are places where parents can find resources, but if you can afford a mommy country club, you probably have the means to hire help, to pay for classes, to have a plan B. I'm not trashing this place. I'd love to be able to go there. But it's not the kind of accessible resource I'm talking about. As far as I know, that place doesn't exist.
Am I only person who sees the need for this kind of thing? I mean, we still need support for families in the form of stronger maternity and paternity leave, better rights in workplaces for women who need to pump, affordable and regulated child care… I just wish this kind of place existed. Because instead of standing helplessly on my driveway crying, and then going back inside feeling lost and just trying to wait it out until my husband came home, I'd have gone there, and I think it would have helped.